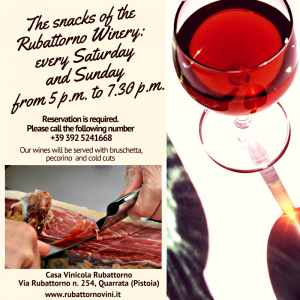 Summer is already here, so why don't we relax in the countryside with a glass of wine?
An opportunity to be in company, relaxing surrounded by nature, tasting good food and good wine of this particular territory. As Jean Brunhes stated: "Eat, it's to incorporate a territory."
Every Saturday and Sunday afternoon from 5 p.m. to 7.30 p.m. we're waiting for you at the winery Rubattorno, located in via Rubattorno n.254 (Quarrata, Pistoia), for tasting the wines of the wine cellar accompanied with delicious snacks. 
                                                     The reservation is required.
                                          Please call the following number +39 392 5241668
                                            or e-mail us at commerciale@rubattornovini.it